Puncture-proof tyre: La Poste opts for Uptis 
The MICHELIN Uptis puncture-proof tyre will be fitted to 40 La Poste vans in the Hauts-de-France region (North of France) by the end of 2024 
Particularly suited to last mile delivery, the MICHELIN Uptis airless technology removes any risk of punctures and the associated premature changing of tyres 
The MICHELIN Uptis tyre is currently the only airless tyre in the world to travel on open roads, under real conditions 
By 2024, nearly 40 La Poste vans fitted with the MICHELIN Uptis* airless tyre will deliver letters and parcels in the Lesquin, Valenciennes and Douai sectors, in the Hauts-de-France region (North of France). Three initial vehicles will be placed in service from June 27, within the framework of a two-year partnership between La Poste and Michelin, a first in France and Europe – following partnerships already formed in Asia. 
* MICHELIN Uptis, which stands for Unique Puncture-proof Tyre System, is an airless tyre developed in association with Maxion Wheels, the supplier of a specific rim for the UPTIS tyre. Any airless solution must still be approved for use on the open road. While waiting for this homologation, Michelin has obtained a waiver from the CNRV (Centre National de Réception des Véhicules [French National Vehicle Reception Center]) to drive on the only airless tyre currently in circulation on open roads, under real traffic conditions. 
The UPTIS prototype is a puncture-proof wheel/tyre assembly with no compressed air, intended for cars and light commercial vehicles. The compressed air has been replaced by a revolutionary structure capable of supporting the vehicle. This ensures the strength of the assembly and guarantees driving comfort and safety. This is an off-the-peg solution that allows users to drive with peace of mind, without worrying about road hazards.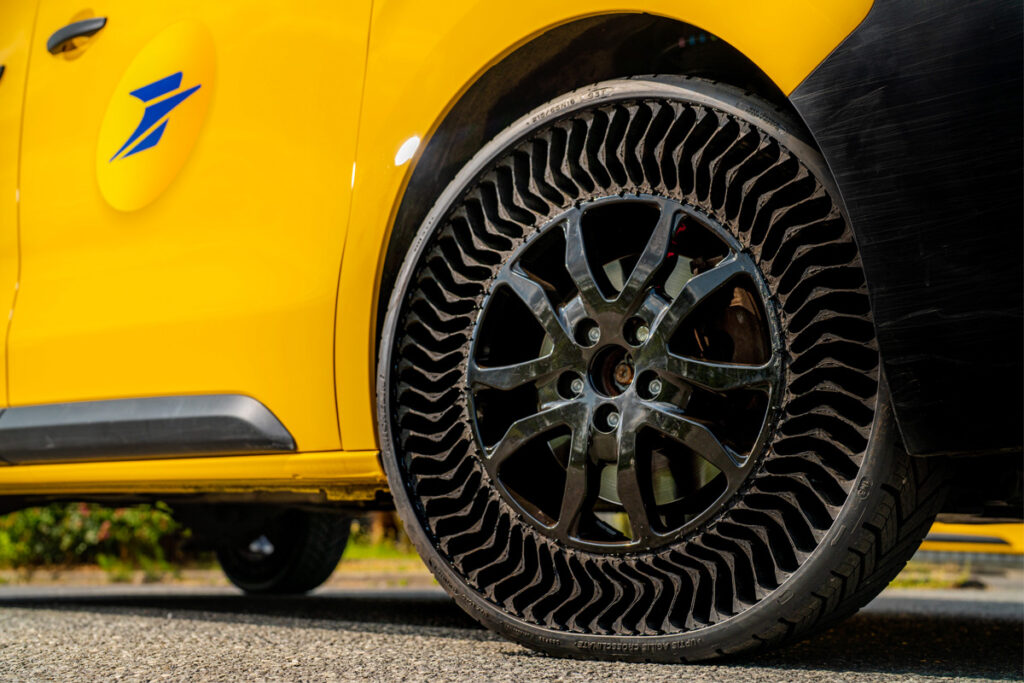 Thanks to the MICHELIN Uptis tyre, which eliminates the problems linked to tyre pressure and punctures, La Poste can reduce downtime and maintenance operations on its fleet. It can therefore ensure better continuity of its activities and services. On an environmental level, the elimination of puncture and underinflation problems will allow for reducing the number and frequency of tyre replacements, thus helping minimise/decreasing waste.
Michelin's main target market for the Uptis prototype is light commercial fleets intended for professional use, and particularly deliveries by van.
"We are particularly happy to collaborate with Michelin, whose know-how and innovations have been serving our mobility for more than a century," stated Philippe Dorge, Deputy Managing Director of the La Poste Group in charge of the Services-Letters-Parcels branch. "We deliver letters and parcels throughout France, 6 days a week, with postmen and women who travel the equivalent of 50 times the circumference of the earth every day. We need reliable vehicles that offer total safety on the road, while limiting our environmental footprint. We are expecting performance and total peace of mind from the revolutionary MICHELIN Uptis tyres."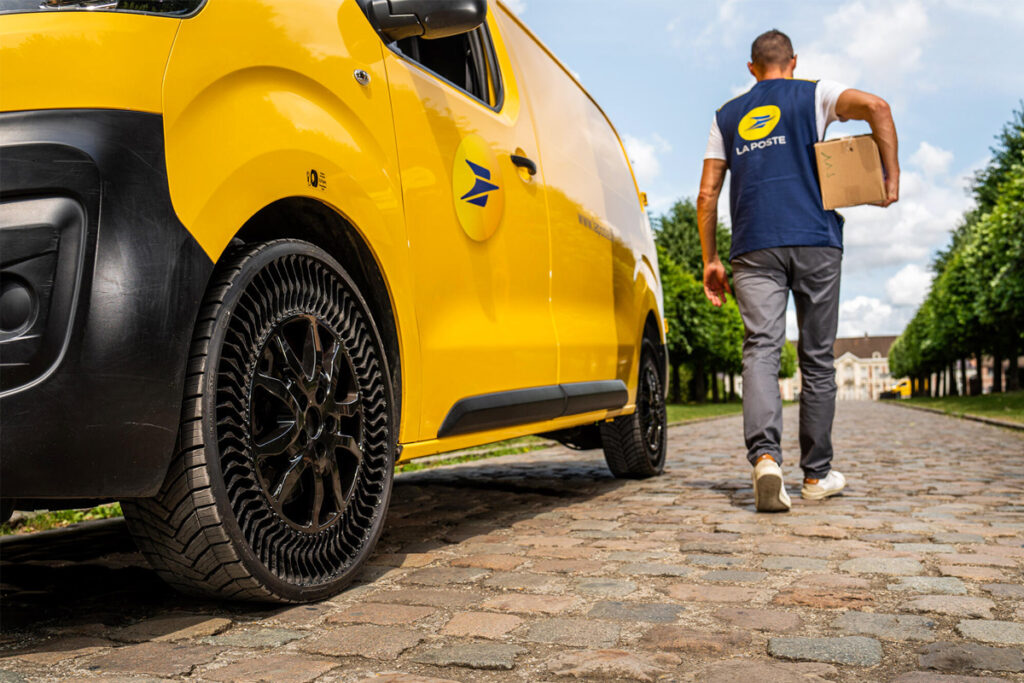 "The MICHELIN Uptis tyre is a major innovation in the tyre sector and is a key step in the development of a fully sustainable tyre by 2050. It is the result of some fifty patents in terms of tyre structure and high-tech materials. It demonstrates Michelin's capacity to innovate in favour of a safer mobility that is kinder to the environment. We are delighted that La Poste, the biggest vehicle fleet in France with 50,000 vehicles, i.e., the biggest French company, has chosen the MICHELIN Uptis tyre," declared Bruno De Feraudy, Director of OEM activities for the Michelin Group.
The MICHELIN Uptis tyre is currently the only airless tyre in the world to travel on open roads, under real conditions, on three continents (Europe, Asia, North America), having covered almost 3 million kilometres.